Fall Breaks
The first layer of this painting is a layer of leaves collected around Stirling, Scotland. I wanted the painting to have authentic texture and for the position of the beaches to be guided by the veins of the leaves. (30X24) Acrylic paint and leaves on canvas
A Window's View
This painting features the view of a window overlooking the courtyard at Stirling Castle. (24X18) acrylic on canvas
Marine
(20X30) graphite on paper
Power In Diversity
Not man, not woman. Black and white and everywhere in between. This piece is the largest work I have created to date. I am currently abroad and when people find out I am an American they only ever want to talk about one topic, American politics. I have been living in Scotland for a few months now and have been blissfully ignorant of the division that exists back in the states. Being away from America has also given me insight into the aspects of American culture that makes it such a unique and wonderful country. America triumphs many other countries in diversity. This can be American's greatest strength and yet we are making it our greatest weakness. We have let our country be divided by hate. I blame this on stupidity. Any intelligent person judges on character and charter alone.
The two people in the painting are very different. But they are certain. Adding the second canvas to this piece was necessary. They needed to stand tall. They needed to appear larger than life and when freedom is threatened there is no greater power than one country standing up together for the freedom of all. I wanted these two people to represent the potential future of our country.
I also had my friend Tierra Wilkie in mind when planning out this piece. She is strong and independent and speaks often on behalf of justice and freedom. She spoke to me about a book she wanted to write to give the majority insight on what it is like to be a minority. Even if we can not fully understand the impact of barriers we were never given we can understand how critical unity and acceptance is when building a sturdy nation. We can understand people are people.
I am part of the last generation that remembers 9/11. We are the kids that can still remember a world without iPhones and social media. And we are the generation that will put an end to prejudices and racism. We have witnessed the legalization of love in all forms and we have started the "Black Lives Matter" movement to help the healing process of America's deepest scars. We are the generation that has sat in the passager's seat while older generations let hate win. With each generation, ignorance is dying. One day, these kids will raise kids to accept all people in all forms. These kids will choose a nation of unity over a nation of division. And one day, we will be raising a generation who will only learn about prejudices and racism in history books.
When Someone from this generation is in office, American might be great for the first time ever. A country can all only be great when all are free.
The shades of red and blue in this two-part painting stand for the same things as the American flag. Red, hardiness and valour, and blue being vigilance, perseverance, and justice.
Sunflowers on Sundays
(20X16) Acrylic on canvas
"London Sights"
Painted for my mother's 2017 Christmas gift. The photo was taken during a trip to London in May 2017. This painting now hangs in my mother's room. (20X30) acrylic paint on canvas.
London Tube
Created for one of my favourite teachers as a gift for his retirement. (20X30) charcoal on paper
"La Sagrada Familia"
Created for my father's 2017 Christmas gift. Photo was taken during a trip to my favourite city, Barcelona. This piece now hangs in my parents basement. (20X16) charcoal on paper
Submerged
(20X30) acrylic paint on canvas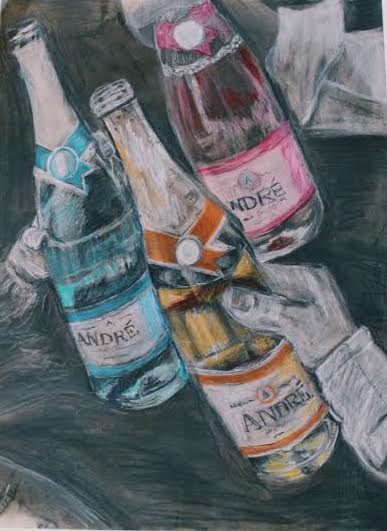 Uncle Owen
My grandfather asked me to draw this picture of his brother back when I was a senior in high school. I did not get around to it until October 2017. (24X16) coloured pencils, pen and charcoal on paper
Bed Head
This is inspired by a photo taken by my talented photographer friend, Ann Shelley. The portrait is of our friend, Gianni. The tattoo featured on his arm is my favourite part of this piece. (20X16) charcoal on paper
Soft Hands
Self-portrait created as an experiment for the piece titled "Uncle Owen." (24X16) coloured pencils, pen and charcoal on paper
"Cheat Codes"
Based off a photo taken by photographer friend, Ann Shelley. This portrait features, Trevor Dahl from the band "Cheat Codes." This piece was created for Ann Shelley on her 21st birthday and now hangs proudly in her dorm room. (20X16) charcoal on paper
London Pub
(20X30) acrylic paint on canvas
Ash in Shadow
(18X12) Acrylic and charcoal on canvas